articles
Little Dragon – Machine Dreams
The much-anticipated second album, Machine Dreams from the lovely swedish soul-pop band Little Dragon is coming out on Peacefrog Records this month.
The new LP is a move forward to more electro-robotic sound but without loosing their intimate soulfulness. Yukimi Nagano is as magical as ever and now the edgy, uptempo beats are providing great context to her hypnotic voice. Each new track can be taken as a gem, though Feather (this will be the first official single), Looking Glass or Thunder Love purely radiate out of the whole. Fortune and Blinking Pigs have already been released on a single earlier this year. The album cover is designed by the Japenese artist Hideyuki Katsumata who also made the animation for LD's nice Fortune video last year.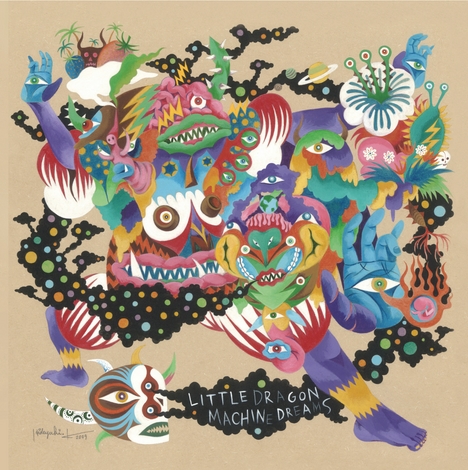 Tracklist: 1. A New 2. Looking Glass 3. My Step 4. Feather 5. Thunder Love 6. Never Never 7. Runabout 8. Swimming 9. Blingking Pigs 10. Come Home 11. Fortune (free official dl)
Here is a tasty live video of the new song Never Never from their worldwide album tour. (thanks to pathanapong)

Machine Dreams is out 31, August on Peacefrog Records. Buy on sight!
Official Website: www.little-dragon.se
Posted at 9:55 am | Tagged with album, Little Dragon, Peacefrog, review, Yukimi Nagano
6 comments so far