articles
Shortcuts: Four Tet, José James and Silhouette Brown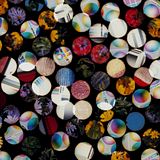 Four Tet - There Is Love In You
label: Domino
releasedate: January 25th 2010
cat #: WIGCD254
style: house
Domino releases Four Tet much anticipated new album on January 25. "There Is Love In You" is Kieran Hebden's fifth album and his first proper full-length in over four years offering nine new gems. Two pre-album singles, Love Cry and Love Cry Remixes are already out including Joy Orbison's fantastic retake of the equally great original version. Check FT's new website for his latest Plastic People Mix and more on this release: www.fourtet.net
Four Tet – Love Cry – Joy Orbison Remix
2010 will be the year of José James. After his much loved debut solo album "The Dreamer" released two years ago, he is ready to share his second one called "BLACKMAGIC" produced by the likes of Flying Lotus, Moodyman or Taylor McFerrin. Expect nothing but quality beats with the touch of José's magical voice. Detroit Loveletter, Touch and Love Conversation are the main highlights. Gilles Peterson's website has the full monty on the album including background story plus audio previews. Since Verve Records signed JJ, there is also going to be a special album of jazz standards in duet with pianist Jef Neve called "For All We Know" on Impulse Records around May.
Jose James – Black Magic (Simbad Dub) UNRELEASED by simbad
The first Silhouette Brown album became an instant classic when it came out in 2005. 5 years later Dego, Kaidi Tatham and the mighty Bembe Segue are back with "Two" maintaining the same top quality and soulful vibes now joined by extra US guests like Lady Alma or Sadat X. The Japenese Especial Records will put out the sampler Leave A Note and 2000black is releasing the album in early February. You can follow SB on twitter and 2000black.com is set to be relaunched very soon. Happy New Year to All!
Posted at 2:40 pm | Tagged with album, Dego, four tet, José James, joy orbison, Kaidi Tatham, preview, shortcuts, Silhouette Brown
4 comments so far